Dip Type Pickling Liquid / Supplier And Exporter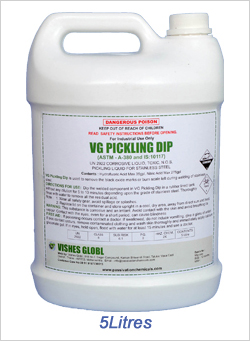 STAINLESS STEEL WELDINGS using 304 & 316L grades of steel pose a severe and major problem of cleaning and brightening by normal methods like Grit or Shot blasting, mechanical grinding , wire brushing or sand papering, These are the age-old processes involving substantial labour and time. Moreover the cleaning is NOT COMPLETE and SATISFACTORY in some intricate areas , rounded shapes and structures etc. These processes also affect the surface finish, leave scratch marks and reduce the Gloss of the SS equipments VG – DIP for Excellent Cleaning and Brightening of SMALL PARTS , TUBES , Small Fabrications from SS 304 and 316 L , SS DISH ENDs , SS CASTINGS. Weld-Joints and all othe radjoining areas on Fabricated STAINLESS STEEL PLANTS & EQUIPMENTS, Power Plants & Petro-Chemical & Heavy Chemical Industries Pipe Lines for Chemicals / Steam / Water and Corrosive chemical transporting Pipe-Lines.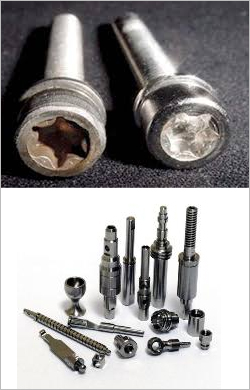 G – DIP is in FREE FLOWING liquid and cleans welding & SS Surface within 05 to 30 minutes, depending on the Grade of Stainless Steel and the method of Welding. VG – Spray can be very easily used for Vertical and roof top surfaces, without dripping / flowing down. VG DIP can be used by un-skilled labour. It has very limited fuming, and is to be used ventilated areas & in open yards. Post washing with water ( By Spray or Swabbing is recommended.) VG DIP is STABLE for 12 Months from the date of supply. Use of VG DIP will save on cleaning time and will be the most economical and efficient means of Weld cleaning , especially in non-reachable ares , ID of SS Tubes and Hollow Sections. The Cleaning performance of VG Gel is guaranteed. This PRODUCT is to be used at Room Temperature, as supplied, without any dilution.